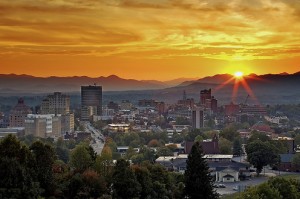 IARPT's 2015 conference will take place June 15-18 in Asheville, North Carolina. The theme of the conference is Faith and Solidarity.
The Institute for American Religious and Philosophical Thought invites papers addressing themes of solidarity, community and communitarianism. While American thought is often characterized as primarily individualistic there are streams in American thought that militate against that characterization. Josiah Royce emphasized loyalty as an ideal good and envisioned a "beloved community." These themes were picked up in the thought of H. Richard Niebuhr and Martin Luther King, Jr. Alfred North Whitehead focused on the interrelatedness of all living things and gave way to various relational philosophies and theologies, including attention to the common good in the work of John B. Cobb and others. Richard Rorty invoked the spirit of solidarity and Jeffrey Stout has advocated democratic and discursive communities embodied in the exchanging of reasons about ethical and political matters. American feminists, like Sharon Welch and bell hooks, have also emphasized community both through the importance of mutuality and resistance to oppression. Throughout his writings Cornel West has explored the difficulties of "keeping faith."
Proposed papers may address strains mentioned above or other strains in American thought that pertain to community. We also encourage the submission of papers related to these strains that are creative and constructive in nature.
While themes of solidarity and community are the focus of the conference, we invite proposals on a broad range of topics that do not address these but are related to empiricism, naturalism, pragmatism, and process thought as articulated by IARPT's mission statement.
Please submit a short (up to 500 words) précis of the paper that you propose along with a brief biographical sketch (like one that we might print in a program) to conference coordinators Hannah Schell (hschell@monmouthcollege.edu) and Dan Ott (dott@monmouthcollege.edu) by February 1, 2015.
Click here to view the program schedule: IARPT2015Schedule
HOTEL AND TRAVEL INFORMATION
Rooms can be reserved at the Four Points Sheraton (828-252-8211) at the rate of $109 per night or the Renaissance Asheville (828-253-1851) at $133 per night.  The rooms are being held until May 15, and you should ask for the conference rate when you reserve the room.
Please remember as you are making travel arrangements that the conference will begin Monday evening, June 15 at approximately 6:30 pm with an intellectual autobiography and an opening reception.  The banquet will be on Tuesday evening. And the conference will close with a business meeting and dinner Thursday evening, June 18.