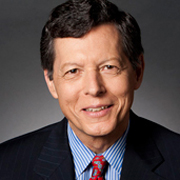 Each year, IARPT's journal, The American Journal of Theology and Philosophy, hosts a lecture at the annual meeting of the American Academy of Religion.  We are pleased to announce that Gary Dorrien will be this year's speaker.
Gary Dorrien is the Reinhold Niebuhr Professor of Social Ethics at Union Theological Seminary and Professor of Religion at Columbia University. An Episcopal priest and lifelong athlete, he was previously the Parfet Distinguished Professor at Kalamazoo College, where he taught for 18 years and also served as Dean of Stetson Chapel and Director of the Liberal Arts Colloquium.
Prof. Dorrien is the author of 17 books and approximately 275 articles that range across the fields of ethics, social theory, theology, philosophy, politics, and history. His latest book is entitled The New Abolition: W.E.B. DuBois and the Black Social Gospel (Yale University Press, 2015). Prof. Dorrien's recent book, Kantian Reason and Hegelian Spirit: The Idealistic Logic of Modern Theology (Wiley-Blackwell, 2012), won the PROSE Award from the Association of American Publishers as the best book in Theology and Religious Studies of 2012.
Philosopher Cornel West describes Gary Dorrien as "the preeminent social ethicist in North America today," and philosophical theologian Robert Neville describes him as "the most rigorous theological historian of our time." Click here to find out more about Prof. Dorrien.
The 2015 annual meeting of the AAR is November 21-24 in Atlanta, Georgia. Prof. Dorrien's lecture will take place on Sunday evening, November 22, from 6:30 to 8:00 p.m. This lecture is open to the public but seating is limited. If you are not registered for the AAR & SBL Annual Meeting, but wish to attend the lecture, please contact Michael Hogue (mhogue@meadville.edu).