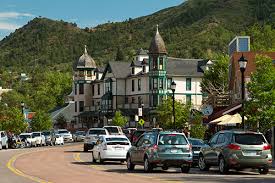 IARPT Conference 2016: Aesthetics and the Arts
June 13-16
Manitou Springs, Colorado
Program Chairs: Walter Gulick and Gary Slater
For its 2016 annual conference, the Institute for American Religious and Philosophical Thought calls for papers addressing the themes of art and aesthetics. The conference proceedings will themselves offer a number of opportunities to experience the arts in display and performance as well as to reflect upon the significance of the arts.
The terms "art" and "aesthetics" are laden with theological and philosophical meaning, and the intellectual traditions featured in IARPT's mission—pragmatism, process philosophy, naturalism, and empiricism—have long placed art and aesthetics prominently among their interests. C.S. Peirce, for example, extolled aesthetics as primary among what he called the "normative sciences," serving as the ground for both ethics and logic. Dewey argued that aesthetic awareness meaningfully grounds experience prior to intellectual rationalization. Whitehead held that art represents creativity, and that God is the measure of aesthetic consistency in the world. Bernard Meland asserted aesthetics as an "appreciative awareness" that touches us with the divine. And Robert Corrington, who will give this year's intellectual autobiography, has made aesthetics an essential feature of his project of ecstatic naturalism.
We invite papers that comment upon on the aesthetic dimensions of life, whether mundane or creative. We solicit papers that deal with specific artists, philosophers, or more broadly, genres and movements. Also welcome are proposals that demonstrate creativity as works of art themselves or explore cultural pluralism. Proposals addressing art and aesthetics in relation to such disciplines as neuroscience, biology, or cosmology or which explore the aesthetics of such technologies as cinema, photography, or the Internet are most welcome. And we encourage proposals that explore art and aesthetics in relation to ecology, which is a topic of particular relevance given the beauty of Manitou Springs as a natural environment. In short, the conference theme allows for proposals that are imaginative in thought and form.
While art and aesthetics are the focus of the conference, we also invite proposals on a broad range of topics that do not address these themes but are related to empiricism, naturalism, pragmatism, and process thought as articulated by IARPT's mission statement. Proposals for panels are also encouraged.
Proposals should contain a descriptive title and brief (no more than 500 words) but informative and readable description of the paper to be presented, with some indication of why the proposer considers the paper to be an important contribution. Proposals should also include a brief (150-word) biographical sketch of their authors. All proposals should be sent in Word format to both Walter Gulick (wgulick@msubillings.edu) and Gary Slater (gslater@stedwards.edu). The deadline for submissions is March 1, 2016.